Vinny will be presenting at the Florida State Divine Mercy Conference on Saturday, March 9th, from 8am to 6pm.  The conference will be held at Queen of Peace Catholic Church at 6455 S.W. State Road 200, Ocala, Fl 34476, Exit 350 off I-75.
Conference details are as follows:
8 am Opening Mass and homily by Fr. Patrick J. O'Doherty, Pastor, Queen of Peace, Ocala.
Speakers include: Fr. Pablo Straub, C.Ss.R., world famous Redemptorist priest seen on EWTN TV.
Vinny Flynn, most enthusiastic Divine Mercy speaker and the guy who sings the Chaplet on EWTN.
Robert Allard, founder and director of the Apostles of Divine Mercy and a witness to Mercy Sunday.
A light breakfast will follow after Mass and snacks and a great lunch will be provided by the KofC.
*Our speakers will have a selection of their own images, DVDs, CDs, and Divine Mercy items.
*A free-will offering will be taken up during the event to help with the cost of the conference.
For more information go to www.DivineMercySunday.com or call 1-888-732-0722.
No tickets or registration required for this event, so bring your friends and family.
Conference Flyers can be viewed and downloaded here.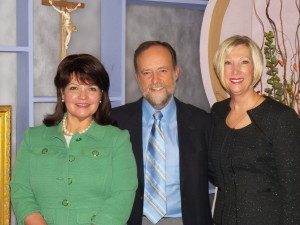 Vinny and his son-in-law Jason Free recently returned from Birmingham, AL where they were filming programs with Johnnette Benkovic for her EWTN Show, "Women of Grace. Vinny joined fellow author Kathleen Beckman and Johnnette for a 5-program series on the Eucharist that will air in April. Jason and John Clark (both homeschooling fathers and authors of books on parenting) filmed a 5-program series on fathering, which is also scheduled to air in April. Both series are sure to be incredibly inspiring so be sure to spread the word and check back here for updates on more exact dates and times as we get closer to April!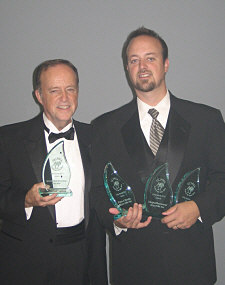 August 28, 2010. Calgary, Alberta, Canada. Site of the 49th International Eucharistic Congress in 2008. Now hosting the 10th Annual Unity Awards Show presented by The United Catholic Music & Video Association.
The presenter's voice reflects the excitement that hangs over the hall: "The nominees for "2010 Praise & Worship Album of the Year"… The names are read, and the audience waits in quiet anticipation as the envelope is opened: "And the recipient is … 'Beyond the Veil' by Brian Flynn!"
Such fun at the Awards show! When we arrived and looked at the schedule for the gala evening of awards and performances, we found that Donna and I were to be the presenters for the first award. Instant stress! I've always hated being first (icebreaking just isn't my strong suit) — plus Brian was one of the finalists for that award, so that really didn't help the state of our nerves. But after Donna had announced the nominees and I opened the envelope, I sure enjoyed announcing the results:
"And the recipient for the '2010 Liturgical/Sacramental Song of the Year' is … Brian Flynn for 'Panis Vere.'"
And it got better. Brian's CD "Beyond the Veil" not only went on to receive the cherished award for "2010 Praise and Worship Album of the Year," but received a 3rd award as well: "2010 Devotional Song of the Year" for his song "You are a Priest Forever."
Towards the end of the program, Brian returned to the stage, this time to perform. He began by playing a haunting introduction on tin whistle, and then, as the Celtic echoes lingered in the air, he put the whistle down and accompanied himself on the keyboard as he sang the now award-winning song, "You are a Priest Forever."
And there was some "icing on the cake," too, as our 2-CD set, the "Mother of Mercy Scriptural Rosary, received the award for "2010 Spoken Word Recording of the Year." Alleluia!
But beyond the presentations, awards, and performances, there was something far more significant, emphasizing the reason these are called "Unity Awards." We were part of an international gathering of Catholic recording artists, producers, and designers representing every music and video genre from classical to rap. There was such a feeling of camaraderie and of shared purpose. We weren't there just to compete for honors and awards, but to meet and affirm and encourage each other, rejoicing together in the reality that no matter how diverse we were, no matter how different our styles of music, we were all dedicated Catholic artists responding to a single call: to use our talents and gifts to give glory to God and help lead others closer to Him. This became most obvious at the end of the evening when, after a full day of rehearsals, a long evening program, and a gala celebration, we gathered in the quiet hush of a local church at 11:30 at night to celebrate Mass together and say, "Thank you, Lord. It's all about You!"
You can check out the two award-winning CDs here!
Vinny is hard at work on his second book in the 7 Secrets Series!  Entitled 7 Secrets of Confession, it  will be published by MercySong in collaboration with Ignatius Press.  Vinny's first book, 7 Secrets of the Eucharist is still on the Top Ten Bestseller list for Ignatius Press and has changed countless lives.  if you haven't gotten a copy of it yet,  you can order one here.
I'd like to share with you an e-mail letter I received from a survivor of the January 15 crash of US air flight 1549 into the Hudson River. It's a testimony to his love of God that he would allow this to be made public to inspire others. For me, personally, reading it was a very moving experience, because the writer mentions that my book 7 Secrets of the Eucharist brought him comfort as the plane went down, and it is always humbling and rewarding to hear how God has used our efforts to bring people closer to Him and His healing touch.
But on another level, the letter is also a powerful witness to God's love and to the often hidden ways He orchestrates events in our lives. I pray it will be a reminder to you of how personally God wants to be involved with each of us and how powerfully He can work in our lives when we remain aware of His presence with expectant trust in His mercy.
Here's the letter.  May it bless you!
Vinny Flynn
---
Sat, 24 Jan 2009 2:08 pm
Subject: Passenger of flight 1549
Vinny,
I sincerely hope this email finds its way to you. I was a passenger on flight 1549 and my name is Fred Berretta. You might have caught a glimpse of me or heard me on CNN or Fox the night of the crash. I interviewed with Lou Dobbs, Wolf Blitzer and Bill O'Reilly and discussed the crash that night.
I had been on a one day business trip to NY and sat in seat 16A just behind the left engine. My trip was a last minute decision the day before. I finished my meetings early on Thursday and realized I had time to attend the 12 noon mass at St. Patrick Cathedral. It was unusual for me to have the extra time, but that day I did. After Mass, I stopped by the gift shop just across from the cathedral and purchased your book, 7 Secrets of the Eucharist. As I waited to board flight 1549 bound for Charlotte, where I live, I began reading your book. I continued reading while we taxied until just after take off.
I think I got through about half of it and then decided to close my eyes and reflect on the incredible insights your book gave me regarding the Eucharist. We were climbing out and just a minute or so into the flight I heard the impact of the bird strikes and then the explosion in the left engine. I could see it on fire and the cabin began to smell like jet fuel. As a private pilot, once I realized the second engine was also not  unctioning, things became quite tense.
While I had known about and prayed the Divine Mercy chaplet years before, I had not really focused on it in quite a long time. Ironically, I had prayed the chaplet the day before at 3 pm. I had forgotten that in my briefcase I had long kept a copy of a booklet of the Divine Mercy chaplet which had exerpts from St. Faustina's diary. When I arrived in NY, I had some time at my hotel and decided to clean out my briefcase,  something long overdue. I found the Divine Mercy booklet, prayed the chaplet, and read some of the words of Jesus to Faustina.
Before we hit the water, I thought about the words Jesus said, that nothing would be refused if asked for during the hour of mercy. I really thought there was a good chance myself and others would die that day, but I asked God to be merciful to us, I prayed the Lord' prayer and a Hail Mary. I then prayed to St. Michael, and we impacted the water. The odds were not with us that day, but God clearly was. I believe it is the only jet airliner to successfully ditch in the water without fatalities in the history of aviation.
I just want you to know that your book gave me comfort as we were going down, and for that I am grateful. I know a lot of people prayed on that plane, and I believe the Miracle on the Hudson was a testament to the mercy of God, and a sign of hope.
Take care and may God continue to bless your ministry and all you do to spread the message of Divine Mercy and the wonders of Holy Communion.
Best regards,
Fred Berretta

via videosift.com