Just a quick note to encourage all of you to go to http://Faithknowledge.org
This is a new Catholic search engine that allows you to type in search words and, within seconds, it comes up with a list of where that word or phrase is found in the Bible, Catechism, Popes and Councils. This is a dream come true for many people! You can limit your search to one or two of these or search within all of them. It's amazing.
Check it out and refer your friends and family. It's still in the developmental stages and will be tweaked and added to when he has time and when he gets funding. The developer is a convert out of England. It's an incredible tool for those wanting to learn more, reference something, answer a question for someone, write a term paper, you name it! How I wish it had been available back when I was writing my papers at Steubenville!! Happy Searching:) ~ Erin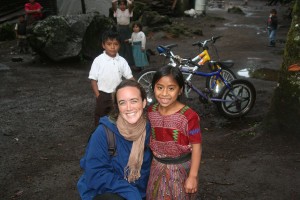 Well, I am back once again on U.S. soil. After returning from the Russian Far East, I had no plans to go anywhere for awhile. I figured I'd take some time to recoup, readjust, and yes, relax! I knew I'd have to of course make it through the always crazy but blessed Mercy Sunday at the National Shrine, and then the new filming of the Chaplet for EWTN, but then…well, the road to rest was free and clear.
What happened, however, was that the Blessed Mother had other plans and made them extremely clear…which doesn't happen to me that often, trust me! Through a very quick series of events, I found myself booked for a mission trip to Bosnia and on yet another international plane ride 6 weeks after I flew home from Russia. I wouldn't recommend this course of action to anyone unless it's a must. For me it was a must…can't say no to Mary:)
We worked within the refugee camps there that still remain from the war, as well as distributing supplies to poor families in the area and to a hospital in Mostar. It was unreal to see bombed out buildings with vegetation growing out of what used to be windows and roofs. There was a church we visited though that, while still riddled with bullet holes, was a sign of hope because of the extensive restoration that had taken place over the years and is continuing now.
It was a hard trip for me on top of what I had experienced so recently in Russia, but I was also prepared in a way I would not have been otherwise. I found in Bosnia the same hard conditions of poverty, but nothing I saw even in the refugee camps was worse than the villages in eastern Russia. While it enabled me not to be overwhelmed by it all, there was something in me that realized that at some point, there is a part of you that feels emotionally a bit numb to what you see, that sort of goes on auto-pilot so that you can function. I still felt compassion, I still felt a deep horror at the conditions and circumstances of these people's lives, but the emotional reaction, which at times can be debilitating, was not so strong.
I came home ready for that R&R I'd been dreaming of, but was enticed by a friend to join a very short mission trip to Guatemala. I don't know how else to express it except to say that Guatemala was healing for me. I was with an incredible group of people and a dear priest friend and his mother. The emotional climate there is very warm, open, and laid-back, and is grounded in a profound sense of gratitude. The Mayan people are beautiful and even though I was at a refugee village (necessary b/c of a mudslide that demolished a community) and listening to tales of the farmers and the injustice that has been – and is still – imposed upon them, everyone is smiling. It was a perfect place for me to go to be renewed in the belief that, while suffering always exists, joy is possible, and a positive outlook is priceless.
I've come to the conclusion again that I cannot take on the suffering of the world, I cannot be everywhere at once, I cannot heal all the wounds and I cannot find food and homes for all the children. But God…God did take on all the suffering, He is everywhere at once, He will heal all wounds, He Himself has become our food, and He has prepared a place for us…an eternal home. I think the danger of empathy without keeping this perspective is that it can overwhelm, because it is promised only that heaven is the place where there will be no more tears, no more suffering, no more sickness, and no more pain.
As I continue to see material poverty, physical maladies, emotional woundedness, orphans, refugees, and hopelessness in the face of red tape and destroyed economies…I am convinced again that the only thing to do is to love – love God and then love whomever He places in my path – receiving His blessing so that I can become a blessing to others. And, in that, to instill in others the hope and peace that this world cannot give.
As I write, I am listening to a record (remember those?) of Chopin's Nocturne in C sharp minor (Opus posthumous), which perfectly expresses what I've written here about my experiences. There is an intro and then the first note of the body of the piece. It brings me to tears with its melancholy, as if it somehow encompasses all the sorrow in the world in that one note. Yet at the very end of the piece there is a shift to unmistakable hope and even joy. It is the cycle of death and resurrection – of our days, of the world, of the Christian life. Kick back and listen to it sometime. God bless you ~ Erin
I just wrote an article for the Marians of the Immaculate Conception's Friends of Mercy Newsletter.  The article is about my experience in Russia doing mission work.  You can read the full article in pdf format and let me know what you think!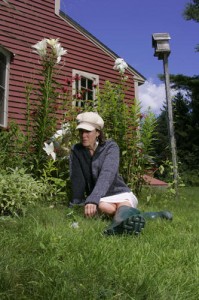 Hello from American soil! I arrived safe and sound. It is totally surreal to be home again in such familiar, yet unfamiliar, surroundings. I can't describe it but I will say that I miss my work and the people in Russia, am thrilled to see my family, and am looking forward to the next chapter…music, similar work in the U.S., Africa, India???
I will be going on hermitage this coming week for some much-needed solitude- to center myself and pray about what's next. I return the following weekend to speak and sing at Mercy Sunday at the National Shrine and then will record an updated version of the Chaplet for EWTN the following day.
Please keep all of that in your prayers as you'll be in mine during such an amazing time of the year! A very blessed and joyous Easter to all of you….Erin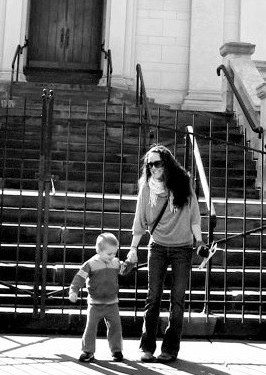 I arrive home on Monday…thought this would be the most appropriate way to sum up my trip…through poetry. There's really no way to describe how I feel leaving or what my time here was like anyway. Thank you all for your support, and for being part of my journey ~ Erin
I walked the roads of Russia once
When my eyes were bright
And my hair blew shining
In the cold east wind.
I was weathered by the hard terrain
And the driving gusts from the bay of the sea.
But it did not break me, this land
It did not break me.
I imagined a dawn
When rays of a gentle sun would break
upon the icy soil
And the shells of men, frozen from the bitter years…
Would crack and fall and be trampled
By the joyful steps
of children's running feet.
Well, my friends, time for an update from the land of ice and.well, less snow than Massachusetts usually. They don't use salt or anything here so the roads and sidewalks are just ice, ice, ice. They pay hearty workers young and old to chip the ice away little by little to clear paths for walking. Otherwise just stay on the balls of your feet and wear good boots. That said, I've fallen twice already and sprained a wrist but it's all better now. Not bad I guess for such a long winter! Anyway the kids thought it was funny when I showed them how I fell trying to rush to catch up to a group of women crossing the main road here:) It's a 4 lane road plus a trolley track and bus stop and I didn't want to make the cars stop twice on ice! I always feel like frogger when I go down there.old Atari game (ya know even before Nintendo?) I told that to one of the workers who used to live in the U.S. and he said, "Wow you're that old huh?" Ouch.
And on to the program. When I returned from Japan I met the new kids who had arrived and I had a warm reunion with the ones I had left. They are used to not depending on anyone and to having people come in and out of their lives, but they have not lost their excitement or affection when someone actually does return once they've left. Unfortunately our other American volunteer has gone home because of a lack of the funding that was promised from the mission. We came here to eventually establish a center where the kids could sleep and, unfortunately, at this point that looks impossible.
I am trying with my time left to make sure that what we've begun will continue, and hopefully grow, with Russians taking the lead. What we have kept reminding ourselves these past few weeks is that these kids were cold and hungry when we came here and now they are warm and eat nutritious meals every day. We have shown them what it is like to have someone be involved in your daily life, caring about what happens to you, how you feel, if you are sick, what you think about and what you dream about. That's what always gets me the most, is that they come to me with their stories of what has happened to them that day. Many times it is horrifying like an axe fight out of town with some other kids, the police who burned their "shelter", or which kids got caught and beat up by the police this time.
Oftentimes though it's sweet, like Slava showing me his new student ID that he's so proud of, or asking, like he did today, if I want to see his marks and then going through each of his notebooks page by page with a big grin to show me the high numbers he's getting in his subjects. Little Dima came to me b/c he cut his finger helping me chop onions. When I put a bandaid on I almost cried because he was so receptive and I realized, they know. They know that this is how it should be. Sometimes it's intuitive and sometimes it's because when their mothers are not drunk they are good mothers, and they do these little things. Katya showered and then curled up and slept at the apartment today because she felt sick. I took her temperature and gave her some medicine and juice and checked on her now and then. Andre meanwhile hung out with me and the interpreter in the kitchen, just sitting there talking away because there was someone to listen. Slava had missed the cafeteria lunch because he was at school so I cooked him up some sausage and pasta and of course Andre then had a second lunch (no Mari, not second breakfast) because, well, he's a teenage boy! These are our days here, and they are bittersweet.
The question that has been working on me since I came to Russia is, "How do you help people who feel that change is impossible and who have no drive to help themselves?" Some of these kids really have tried to get their passports and get jobs, but have been burned by the system (red tape anyone?) and are now discouraged and hopeless. Some, however, just don't see that anything more is possible. It is at times very difficult to find Russians with initiative or vision and, after the repressive climate of the Stalin years, one can understand why. For many, initiative meant death, and for others, their spirit was defeated or scared into hiding and this attitude in certain places seems to have been passed on to the next generation. So, I'm not sure how many kids we can really help in a concrete way. You cannot force someone to dream, or to try over and over again until they succeed. There is also the problem of Fetal Alcohol Syndrome (FAS) and FA Effects (FAE) and I am now convinced that many of our kids suffer from this which has many ramifications on what kind of goals will be realistic for us to expect from them.
Despite all of this, we are optimistic, and are grateful that we have a chance to positively affect even a few. And I have found great meaning in binding wounds (there are a lot of those!) and giving hugs and cooking meals with love and a small budget. For those who know of my great culinary experience ha ha, just imagine me cooking for 10 – 20 people on Saturday and Sunday! I've come to adore buckwheat. Healthy,quick and filling! The boys found my album the other day in the apt. and discovered I am a singer, albeit a religious one! They think I should sing with their pop idols here to which I said nyet spaceeba. (no thanks) It was cute but toooorturous to have them play my CD while I was cooking, but two good things came of it: they said they couldn't believe I was here with them so I think it made them feel important, and they found out that most of the music I do is solely for God, which I hope planted a seed.
They have lately begun to ask me if I am leaving too, which breaks my heart. The thought of never seeing them again is something I can't even think about, and I just pray that their lives will only get better from here. Maxim is one of the boys who is constantly giving me hope for the others. He has had a job since I met him, even if it meant standing in the bitter cold for 12 hours a day as a guard outside a local store. He hardly gets paid anything for these jobs, but he is now able to pay rent to live in a friend's apt. and he comes to eat with us. He has a ready smile.just a super cheerful guy who is grateful for each meal, each tablet of cold medicine, and each word of encouragement.
Some of the other boys have now gotten their passports to try to get jobs like his. I just found out yesterday that he wants to be a chef (yikes and he's been eating my cooking?!) and is trying to earn enough money to go to a school here where in a matter of months he can get a certificate. We are going to help him pay the tuition. He has a connection on a navy boat and has been promised a job once he graduates. We have also just helped Vova sign up for a school which will, in 6 weeks, give him a certificate for operating a forklift, and he also has a job lined up. It's been a very full and important 3 months since I returned so thank you again to all those who helped me get to Japan for my new entry visa.
On that happy note I will sign off. Sigh. We went and walked on the sea (actually the bay) the other day, which was frozen. For all you worriers, no we didn't go out that far:) It was very cool, however, to see snow as far as the eye could see, and the only way you could tell it was water was because of the boats harbored! One of the few times I felt like I was really in Russia. So, happy spring!
Love, Erin
p.s. my roommate and I are still trying to get that women's support center up and running before we leave so for those who are helping raise funds, please give us an update on how it's going so we can let our dream director know we want her!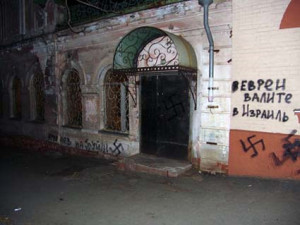 Hey friends and fam, I haven't sent an full update because it's been too busy since I returned from Japan and I only have a few months left to accomplish what we're trying to set in place here! My work with the street kids continues, and now it is just myself and a Russian man who has taken the place of the American volunteer who was here originally. I will get an update out hopefully soon on all of that, but meanwhile I am working on something else as well.
My roommate Myra has been going to a village (still a city) about 21/2 hours from here by train. There is a parish there that was also started by the American priests here. She has been working with the poor families and children there, but of course is running into many obstacles. What else in Russia ha ha! We have both seen the need (her there and me with the street kids and orphans) for education on fetal alcohol syndrome. It is extremely common here, and many women are continuing to drink during their pregnancies, not realizing (we believe) the harm it will do to their children and, on a larger scale, to their society.
Through Caritas (an international charitable organization) there have been 8 women's support centers started in this region. These centers operate on a small budget and do great work. There is no center in Romanovka, but there is definitely a need for it. Caritas has no funds to open another center so we have taken it upon ourselves to start it and raise enough for it to function for as long as possible. We have the blessing of the priest here, who has been instrumental in starting all of these centers, and we already have a director for the center and an apartment to use. Below is a very basic list of what these centers provide. It is the standard list of services, plus we have added the education aspect for our center, which will provide days where a speaker will come in to talk to the women about issues such as FAS.
Centers provide material, spiritual, and emotional support for women in crisis pregnancies as well as pregnancies in normal circumstances (which here is very different than our norm.) Mothers are provided with prenatal vitamins, counseling, ultrasounds, medicine, and help after the baby is born, including diapers, baby food, and clothing. Volunteers are trained by Caritas International, and there will be special speakers who are brought in for motivational and educational seminars.
If you are part of a youth group, a university, a business or a parish where you think there would be support for this type of center, please contact me, and I can send you an exact breakdown of operating costs and a yearly budget. It looks like our center would need $4400.00 a year, which includes everything down to supplies, education, train travel for the director, as well as her salary and a stipend for another worker. Amazing huh? All donations are tax-deductible, and the best thing of course would be to get an organization (or individual) to commit (at least as far as their circumstances allow) to sponsor one part of this center for each year of operation. For instance every year a parish could send the necessary funds to pay for the baby food and diapers for that year. That way we can ensure that this continues after we leave. We are very excited about this and hope you will be too! It is one thing to work here with the problems that already exist and a whole other thing to try to do something proactive and prevent some of those same problems from occuring in a never-ending cycle. God bless you ~ have a wonderful day… erin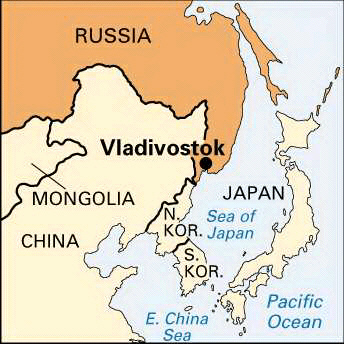 Well, I thought culture shock was over, but there have been times when I find myself at a meal or in the office and, for no apparent reason, this overwhelming sadness begins in my chest and works its way up through my throat to my eyes, which well up with unrestrainable tears. Emotional release maybe from the isolation one feels when people are screaming around you all the time in some strange tongue! Craziness. I think that's over now but happily (ha!) seems to have been replaced by panic attacks on the bus; something I've never experienced before. Total panic, sweat, nausea, where's the exit? No exit ha ha. Is it claustrophobia? Is it lack of air b/c of all the people shoving you into space that isn't available and no open window? Did I once say it was good to be packed on a bus b/c you can't fall?? Oyyy. I don't know, but on a little tiny van/bus we had to have them stop and the next time I just meditated on the open blue sky and focused on breathing until I could work my way through these solid Russians to the front when some people got off. We were with 5 street kids, all spread out, and going quite a distance, so I didn't have the option of getting off. It's not something I would wish on anyone and please pray that these were isolated incidents!!
The main news from the orphanage is good news! – I found out almost all of the babies we play with are being adopted by couples in the U.S. Lately I have been spending most of my days developing the program for the street kids. We are up to 15 kids now and lately there have been about 2-3 new ones each week. We clothe the new ones in winter gear and feed them every day. They told us the other day that they really need to learn English, so we will begin a class after lunch on certain days for an hour. Maybe it will help with our Russian, too, and will certainly be great for developing these relationships.
We had our first girl show up for lunch the other day, which threatened my heart for sure. Her name is Katya, and she was so intimidated that she couldn't eat. She showed up, however, all on her own, 2 days later and asked for me, so hopefully she will continue to come and also bring the other girls with her. She's an orphan and has been on the street for 2-3 years. We have met with the Lutheran pastor, who is wonderful, and their church is located right in a central location. They wanted to help with the program as well and have offered the use of their rooms and their shower. They have even said that if someone can stay with them, the kids can sleep there in sleeping bags until we come up with a more permanent arrangement.
I'm getting ahead of myself though b/c I never wrote to tell you about when our first 5 boys took us to their "home." It was in the ruined basement of an apt. building I have walked by countless times. There are still people who live here, but where the basement apartments were, everything has collapsed and is a maze of broken concrete. We had to sneak across the foyer when no one was around, and then we climbed down into a hole, stepping on ledges of concrete slabs. Thankfully I had my handy key chain light with me! There was a time even with the boys in front calling me and Mark and our translator behind me somewhere where I was momentarily afraid. It is so so dark down there and you have no idea going through these concrete tunnels where you're walking. They had already told us that at night they had to take turns getting the rats out; lovely.
So, anyway, all of a sudden you see light and climb over this ledge, through a curtain, into a room. I kid you not, these boys had wired the place and had a light bulb hanging and an ancient hot plate that they were using. It was very warm, and they had wallpapered the place and hung pictures ripped out of magazines to make it look like a real apt. What struck me the most was that these kids are so different, but they bond together in need, in their experience of pain, and in their desire and hope for a home. It doesn't matter that the 4 walls are made of broken concrete and the floor is dirt (they ended up putting carpet down!) They live with rats and spiders and dead air because within these 4 walls they feel a tiny bit of safety and comfort. I was worried about them living down there b/c the air was horrible and filled with all sorts of harmful things, and they were all coughing already after only 2 weeks. The police took care of that, however, b/c they raided the place looking for kids whose pics they didn't have yet, and threw the boys out and took the ones who had families home. Now the rest of the kids are living in the sewers and sleeping in the dirt. Two have stayed at home but for how long I don't know.
I just spent the day outside the police station b/c 3 of our boys were arrested on suspicion of stealing a cell phone (one had been beaten for no reason 2 weeks ago by the police next to the store where we meet the kids, so the cops are not high on my favorites list.) We wanted to bring him to the hospital to be checked out b/c his head was still spinning, but the police needed him for questioning today. The Estonian cop who came for them was younger than me, 6'4″ though, so it must have looked comical with me letting him see a bit of my "Irish fire". calmly of course! He did relent, however, and gave us info and told us when we could pick Alexyei up and later hung out with us outside the station. I confess I've never really liked admitting I'm an American when I'm abroad, mostly b/c of the preconceptions and also b/c of the obnoxious way many Americans act in other cultures. But here I am very grateful to be an American. It means I can leave this country, unlike many who are stuck here wishing for better opportunities, and it also means that with cops and other authority figures, I can get them to give out much more information than they would just to our Russian translator. The cop inside the station said nothing but nasty words until Mark and I walked in,and then he asked all sorts of questions about us and gave up all the info we wanted about where the kids would be transferred to etc.
So, for 6 1/2 hours ,about 10 boys stayed in this tiny room waiting for the victim to come and identify someone. Finally our boys were released, but 2 were brought back to the orphanage they had escaped from in a nearby city. They are regularly beaten there by the other kids, and the adults in charge do nothing. We have arranged to go and get their documents and help them find work in Vlad. since both of them can drive -a marketable skill here. It is supposedly a law (the Estonian cop told us this) that the gov't is actually supposed to get them apts. to live in b/c of their age and orphan status, but he also told us that the apt. thing won't happen. So instead, they leave them on the streets, where of course they create problems for the cops, who in turn are allowed to treat them as 2nd class citizens and beat them, burn their new coats we get them, and threaten them so that they are afraid to show themselves, and Vlad. can say they have no street kid problem. It's a great system.
On a happy note, two of our boys are back in school. Anton is 13, and Slava is on scholarship at a mechanical university b/c he's 17. He looks so great, and I run into him a lot on his way back from class ,and he is filled with purpose and is so proud to be moving forward. He was very grateful for the notebooks we got him and some donated clothes so he can be clean and neat when he goes for his studies. He still comes to eat with us on the weekend. He's staying with his mother, but it is a volatile situation so I'm hoping it remains bearable for him there.
People lately have called me courageous, and say they are living vicariously through me. I can't help laughing, b/c I'm not sure I've ever been called courageous, and I certainly don't feel it. Only I know the times I choose fear, only I know the times I am anything but courageous. So I think, "What enables me to do this anyway? What was it that brought me across the world and tears me out of my comfort zone and out of myself every day? What am I seeing that I should tell them about?"
I am seeing this whole different part of the world, getting insight into history and humanity, which is always fascinating. But what strikes me over and over again, is that there is nothing new, only this: that love will change the world, and it will always happen uniquely through each person in a particular place at a particular time. What enabled me to choose this is the same thing that enables certain men with purpose to bear the daily grind, religious to live in vows, my sisters to wake up to a house full of little ones,nauseous in pregnancy, and still choose patience and sacrifice. Love; love of God, and love of the human person who is "other." Some people, I know, have different things that motivate them. Those things don't last for me in the long haul, and I would certainly have already burnt out with the street kids were I functioning on them. Love is possible anytime, anywhere, for any person. Because someone somewhere is always making the choice to love, love is always making the world new. The greatness of the human person is always revealed to me when I see someone choosing love despite their own circumstances.
I've reflected on this so much here where I often wonder if it's possible for people to be so crushed and brainwashed over years of oppression, that they lose the very qualities which make them most human. Yet always, empires are built and flourish and fall. Human beings seek power, are dreamers for good, for bad. Some are persecuted, many are oppressed, we go hungry, we live in luxury, some live under tyranny, and some sit idle until tyranny collapses on itself. But always a new cycle, a reorganization, the hope that history doesn't simply repeat itself inpower, greed, injustice, hope, resistance and downfall.
And the fact is that no matter what system governs a country, no matter what the history or culture or day to day living, the world is the same, because people are the same. We are made to love, and are always capable of it. Some choose hate and kill love. Some turn inward and hold love in and keep love out. And others choose self-donation, no matter where they are, no matter what circumstances they are in. And in the gesture of giving with outstretched hands, they are also in a receptive position and receiving more than they could ever imagine; the old peasant, the mother, the businessman, the missionary. So, I guess we're always inspired by things we don't do ourselves. The choice to give ourselves to others is the hard part of it for me I think it's easier b/c it's all new, the people are new all the time, being in a new land is romantic and is always an adventure. I am inspired by those who deal with the same people daily, and the monotony that comes with staying in one place, and who stretch themselves to new limits of patience and vulnerability in relationships.
It is Thanksgiving as I write this, which is a happy coincidence because actually the theme of gratitude has been working on my heart for weeks now. Maybe it's because there are many things we live without here, and many daily trials and heartaches, and so I become especially sensitive to anything good and truly relish it. My roommate is wonderful, and is the one who reminds me, when I feel like I can't do enough, of the scripture verses about taking care of widows and orphans and taking care of the least and how much importance Jesus attached to simply fulfilling physical needs. Someone sent me a book I really want to read and getting a package like that here made me joyful beyond words. I am also incredibly grateful for all of you, and have started a photo collage on my wall so that every time I enter my room I am greeted by friendly faces (unlike outside!) It makes me smile even more than the Chinese workers, and it helps me focus when I'm praying b/c I can glance at it and take you all in at once. I have some pictures that I brought but am wishing I brought more, and would love it if you would all throw one in an envelope and send it off, especially now since I'll be here for many more months. No long letter required. It would be great to see you all again, and also for those who have been added to this list, I'd love to know who it is I'm writing to!
Somehow I'm always afraid that I'm missing something or not expressing it in a way that can convey what I'm feeling or thinking And then I realized that if I included every detail with the most perfect words possible, it would not come close to what the experience is. This is long, but you have no idea what I've left out! I'll leave you with a quote that has continually inspired me. It is about the importance of always moving forward, always growing, and always realizing that you are unique and unrepeatable, and that when you love or do anything, only you can bring to the world the fullness of your self. And when we hold back because of fear, laziness, insecurity or lack of self-worth, we cheat ourselves and the world of something great. It's from the book I'm currently reading.
"The world of fear, joy or tears is a very private and personal world. No 'they' can actualize us. Only we can accept the challenge of being our fully human selves. Only we can embrace ourselves and start anew. Only we can decide to live in full humanity. Elie Wiesel tells us of a rabbi who has said that when we cease to live and go before our Creator the question asked of us, will be simply, "why did you not become you, the fully active, realized person that only you had the potential of becoming?" ( From 'Personhood' by Leo Buscaglia)
With grateful affection … Erin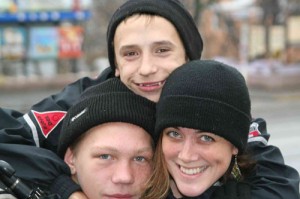 I'll have to fly to Japan in a couple of weeks to leave Russia so I can re-enter with a new visa. Please pray b/c I have a lot to do to make that happen and my present visa runs out at the end of this month.
Working on writing/compiling a booklet for the church to sell to tourists etc. … who ask for the history and pictures of the building of it and then the destruction by fire, the takeover by the soviets etc. … It will help raise money for the mission outreaches.
English class is going really well, and I am now completely able to be my outgoing, blunt, goofy self and am comfortable with people there (and at church and on the street for that matter!). The students told the Russians I know that they like my class b/c I smile a lot and we laugh and they aren't afraid to answer etc. … so that was a big encouragement for me to just be myself. My tutor says I'm learning quickly and I'm actually able to create sentences sometimes, yay! Ii learned how to say hey good lookin' come here … ha ha ha, don't worry I'm learning very important and meaningful sentences and can actually communicate a bit now. One of the street kids we've been with a lot got new gloves the other day with us and turned as if boxing, thinking I was one of his friends behind him, and then was like, oh I'm so sorry, yada yada,and I just blocked and "hit" him back and told him in Russian not to worry, that I have 4 brothers:) He got
a kick out of that. Very cute.
Went to the orphanage 2 days this past week, and the kids were sick, so I stayed with Ilona (about 3yrs old. We were there a few weeks ago on her very first day, and so she has been weighing on my heart) in a quarantined room with a mask on, and she was crying so much that I felt like maybe I was traumatizing her instead of helping, but the caretaker just said that it didn't matter who was there, and left again. And so I said, ok I guess I have to do this. So I just started praying and I picked her up even though she didn't seem to want me to and told her it was me, and thankfully I know how to say "it's ok" and "I know."… Then I started to sing and rock her, and I thought again how God works in such a universal way through the perception of love and safety and through the senses … gentle touch, calm empathetic eyes, music, movement, rhythm … She became peaceful and smiled, and we drew and played a bit, and then I held her again. It was time then to give her some more medicine, and I had to go, and then she didn't want me to put her down, which of course was worse than not being wanted at the beginning. I can only hope and trust that the time I have with them and the love and prayers will make up for any sadness they might experience when we leave … b/c there's so many, I don't think we're with any of them long enough to create attachments, but that's always of course what you worry about. We are also getting them an air conditioner and supplies, so at least I know those concrete things will be good …
We have now started a program on our own for the street kids we've come across right here in our section of the city. They don't go to the one I was working with before b/c the older kids there take the things they get. And they don't go to the state-run center b/c the adults treat them badly and the older
kids "do bad things." We knew that something had to be keeping them from choosing a bed over concrete. So, we feed them every night, and what continues to astonish me is how they are not as hardened as one would expect. They are polite, they love to laugh, they happily mug for the camera, they choose healthy food over junk, and they refuse things they don't really need, which boggles my mind. Hmmm, boggle, that would be such a fun game to have here …:) Where was I? …Australia … lol (laughing out loud). Sorry, the movie The Princess Bride for those who don't know …
So, today, Anton and Dima, the two who really have no even temporary place to go to get off the streets, are taking Mark and I to their "home," which, from what I can gather, is in a little hill type place next to some pipes for the heat. We are working on getting an apt. through the church, where we can at least have the kids shower, bring our doctor to take care of basic medical needs, and get them sleeping bags so they can sleep there, especially during the winter. It's definitely not a permanent fix, but it's a good transition-type arrangement until we can have a permanent center or something. There are other street kids we've heard about or seen, so there will be more and more. We took these five the other day to the Chinese market and got them all winter coats, hats, warm shoes, gloves, socks and underwear. They were thrilled, and one of the Chinese owners said he knew they were street kids and what we were doing and so cut us a deal on all the coats and socks we got at his place. There is goodness everywhere. For those who want names to pray, the boys are Sergei, Sergei, Dima, Anton and Slava, and their ages are 13-16.
Better end this now … It was just a spontaneous update anyway since I was here on a Saturday and the computers were free. I wish you all many warm days,
warm embraces and warm smiles.
"… whatever is true, whatever is honorable, whatever is just, whatever is pure, whatever is lovely, whatever is gracious, if there is any excellence, and if there is anything worthy of praise; meditate on these things (Philippians 4:8). Have a great weekend!
erin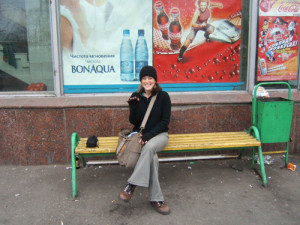 Greetings from Russia! There's too much to write to make it elegant, so here's a sort of free-form/train of thought email. Every morning I wake up I'm out of my comfort zone…talk about an energy burner. But it's definitely getting better and I'm settling in. There are hills everywhere – steep ones that are a part of every sojourn and begin to haunt your dreams.:) Small and steep stairs in desperate need of repair lead you up to every level of the city, which is essentially built on the side of a mountain overlooking a bay of the Sea of Japan. Really beautiful views when the sun hits the water. Dirt paths wind through the city hills as shortcuts – convenient but beware when they lead you to a street you have to cross b/c I've never seen anything as dangerous and chaotic as these roads and the drivers, not even in NYC or Rome…it's a free for all, and you have to dodge other drivers and huge potholes, all at a crazy rate of speed! Try riding the bus, standing, holding grocery bags and the handrail above!! One cool thing is you can "hail" a cab here anywhere and a cab can be anyone with a car … really, it's an accepted mode of transportation, and there is a different sign if you have money or if you are just asking for a ride; i.e., hitchhiking. Don't worry, I don't foresee doing either alone. I cannot underestimate the amount of walking we do – more than 20 hilly miles the first 4 days I was here (psychotic after flying for 19 hours!) and I've discovered that this is not uncommon. The way to the Church is straight up, or add on a mile to take the "gradual" road. I used to go up the muddy path that leads through the old pig farm and past that neighborhood's outhouses. Now I prefer the steeper back way that is a worker's "road" and takes me to the site of the new rectory and office building. 7 days a week it has smiling Chinese workers jumping all over the roof. Their bobbing heads and big grins have many a day been the only smiles I've received, and so the joy it brings me to hike the hill and greet them cannot be measured!
I guess that leads me to the Russian people here in Vladivostok. I have certainly never experienced anything like it, and now that I'm over jetlag and have made some friends, I can write with charity.

Historically this is a hard land in every way. Now, with their still very new way of life after the fall of the Soviet union, they seem to live as though at any moment everything could be taken from them, and there is a distrust and disinterest that seems to permeate everything. As the norm, there is no such thing as customer service, even with the introduction of privately owned stores. Even just common courtesy is hard to come by, and even some of the Russians here (especially those who have traveled a lot) say that there is a rudeness and unhappiness here that they did not find in other "hard lands." So, when are you coming to visit?

They joke that I could never be mistaken for one of them b/c I smile too much while I'm walking and my hair is its natural color.

That said, of COURSE there are exceptions, and I've met some wonderful Russians who are welcoming and warm and humorous, and the babushkas get excited when I learn new words and say I must stay in Russia. Oh, one more thing … contrary to popular belief, almost everyone here has jeans, sneakers, and a cell phone. As a matter of fact, b/c it's all so new, many who live in what we might consider unbearable conditions, typically spend their salary on fancy shoes, beer, cigarettes, and nice clothes. Part of it is that the buildings here – and especially the plumbing – are in such poor condition that even the amount of combined salaries in a family can't change much. There's also the mentality of spend it now while you have it before things change, but also just a contentment with difficult things. What these people have been through both before and after the Soviets is mind-boggling. When we see something that makes us shake our heads in awe … like an old woman hiking up these hills carrying a heavy sack and slipping on rocks … we use (in a Russian accent) what has become our favorite saying … "after all, this is Russia!" It's very common for families to all live together in a small apartment. Even for the ones who are "doing well" there will be someone who sleeps on the couch in the kitchen, some in the bedroom, someone on the living room couch, and another on the pullout chair. And to give you an idea, in 3 weeks I've had no hot water 5 times, and as of yesterday, no electricity 6 times. And often it's citywide! A lot of pre-Soviet homes and servants' houses have been turned into apts and in both it is such that some have bathrooms and some don't. People walk to the buildings where they work or to the community outhouses. There is such a state of disrepair here in what was once obviously a prestigious and beautiful city, that it will take many years for this society to rebuild. So, now after a month, that's my impression of Vladivostok.

As for the different ministries here, I'll just say that we were somewhat misled as to the church's actual involvement. I have only been able to go to the orphanage once a week and wasn't able to help with the street kids at all until I was finally able to set up a meeting with the woman who runs the organization there. I have just been trying to acclimate to everything, keep busy going to the hospice (nursing home) learning the city, finding and now studying with a tutor etc. … There is so much need here but we are basically left on our own to establish some type of schedule for ourselves with other organizations, and nothing like that is easy in Russia. It is hard for me to talk about the hospice and orphanage. The hospice is a narrow building that's part of a regular hospital. From the outside, it could be mistaken for an old maintenance building, and inside is unbelievable. These elderly patients are all terminal and have been basically abandoned. Because their care is not paid for by family, the conditions are horrible. The staff do their best, but there are huge holes in the rotting floor covered by boards, 2 bathrooms for the whole place, and those worse than any gas station you've ever seen. There are patients lying on cots in the hall and a good room has 2 or 3 people in very shabby conditions, and there aren't enough wheel chairs or walkers. There isn't much for them to eat, and although it's heart-wrenching to see, it doesn't seem to phase most of them too much. For many it isn't much different than the way they lived before they got sick. The worst part, like anywhere, is really just the lack of value for human life. It breaks my heart to hear about their families who have essentially left them there to die. The old ladies sit with their arms around you, and the old men hold and kiss your hands (it's not a custom here) in gratitude when you leave. The orphanage is easier in that the conditions are better. The 1st day I went I held little Sasha for almost the whole time. She is about 10 mos. old and I was ready that day to take her home. The main 2 problems are that there aren't enough arms to hold them all, and the corruption of the system, which runs very deep. For instance some directors pocket $ from adoptions instead of using it to buy diapers and other necessities. There are stories of the mafia and single mothers and children there not really being orphans but just taken to be "sold" in adoption to the U.S. type of thing … other horror stories too that I have no facts to substantiate. I am reading again a book steeped in Incarnational Theology and full of poetic imagery. The author is talking now about the countries that have been oppressed, and I read this at the perfect time, and it gave me great hope for what I am doing, and for Russia. She says: "The Nativity … takes place as it always has … Nowhere is there any visible sign of glory. [But, in these countries] Christ will be born again … In any humble, frustrated life, Christ may be born. It may be that in the heart of an old peasant, who has lost all his sons, the Divine Son will be born, and the old man will be made new, and his life will renew the earth. It may be that in the life of some forgotten prisoner, the Incarnation will take place, and the country's life will begin again. It may be that in the soul of a hungry little child the Light that illuminates the whole world will begin to shine in darkness … [And] because in every town and village and hamlet of the world there are those who have surrendered their lives to the Host-life, who have made their offering daily, from the small grains of the common life, a miracle of Love is happening all the time everywhere. The Holy Spirit is descending upon the world. There is Incarnation everywhere – everywhere the Infant Christ is born; every day the Infant Christ makes the world new." [Caryll Houselander, The Passion of the Infant Christ (New York: Sheed & Ward, 1949). Reprinted with title Wood of the Cradle, Wood of the Cross: The Little Way of the Infant Jesus (Manchester NH: Sophia Institute Press, 1995).]
On a very happy note, I am teaching an English "Speaking" course to university students at Caritas, which serves as a woman's center and young adult outreach/evangelization center. I teach beginners and advanced 2 nights a week and really love my students. It's so difficult, though, and I wake up at night with lesson plans running through my head:) There are many working here at the center and the church who are very well-read and a lot of "intellectuals" but also poets and musicians, so in that sense I am very much at home, and we have great conversations about philosophy, Theology and art. Of course if I make it out of here without taking up smoking again it will be a miracle … I've never seen so many smokers. The diet here is lots of dough with stuff like "meat," potato, cabbage, or cottage cheese with some strange fruit … yeah, bought that one by mistake one time!

So, dough, beer, bread … I've taken to guzzling vast amounts of vodka and wine just to be sure I'm getting enough carbs in my diet:) Thankfully there are lots of farmer's markets and the Chinese market where you can get fresh vegetables, and most everything else. You can find "American" things but they are in really funny packages, and the writing obviously makes them look so different. Also nothing except peanut M&M's and Coca Cola lite (diet coke) tastes the same. It's no big deal not to shower often and people will wear the same clothes days in a row and no one cares … yes I may stay forever!

I am sooo happy to report that as of today (as I write) I am now established with the program for street kids and I have been cleared to come to the orphanage 2 days a week. This is great headway. Today I met the head caregiver for the orphanage ward of children's hospital #3. She was very kind and I have great hope now that a good relationship has been established. Once I learn more Russian I think she'll let me come whenever I want. I also went for the 1st time with the mobile soup kitchen to feed the street kids. I wish you could see them! Some are more hardened of course and look at you warily, but these are the very ones that make you want to be trustworthy so that they will open up to you and you can show them love. You can tell they are really not so tough and they are kind when they ask for another bowl of soup or more bread (pronounced Hlep) There are 3 stops and it is every night. Then 3 nights a week the center is open from 4 – 9pm where they can come for food, clothes, books, games etc. … Ok, so that's it and next time I promise it won't be so long … just too much to take in all at once, and you all have had so many questions from the food to the city to the ministries! I move into the apt. with Myra (the volunteer from Canada) this week so will finally be settled. I send my love and prayers to you all and hope all is well on your end. You can fill me in on things as I am always able to read emails, just don't usually have time to write them. Also there's always the snail mail route don't forget!!
love, erin
p.s. well, we just had our first snowstorm, which they said even for them is freakish!! greeeaat! walking in a city on a hill, in the COLD, with the wind whipping up from the bay from the sea is spectacular lemme tell ya! It's everything you think of Russia. The sun is out again though, so we have a reprieve, and they think winter isn't really here yet … there's still time for me to get out ha ha!!